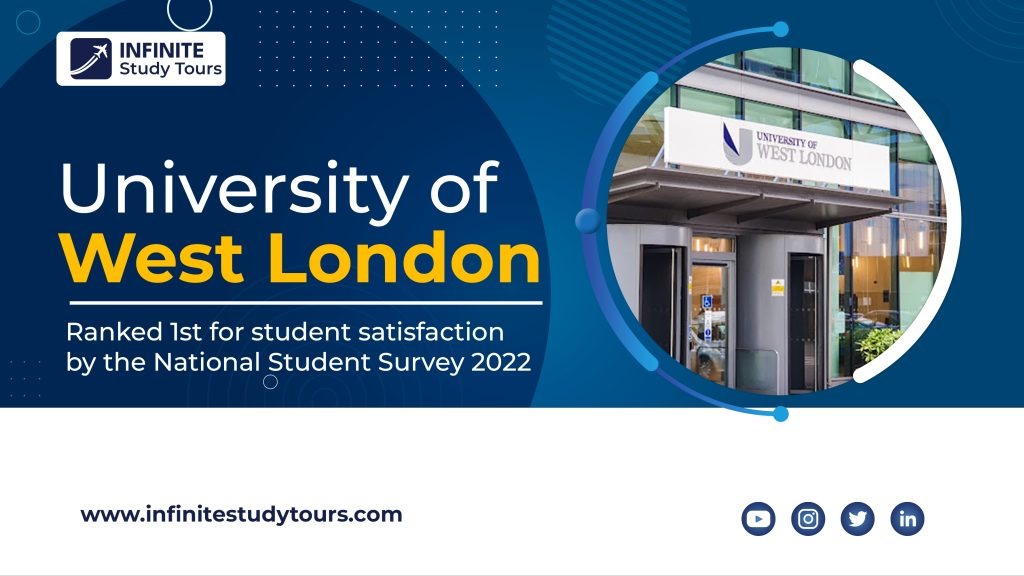 Why choose the University of West London ?
About the university:
The University of West London has had its roots in the UK since 1860. Placed among top universities, UWL has a wide range of courses available for international and national students. Open and inclusive culture in the university engages students. The main aim of the university is to offer students career-focused courses designed to give a satisfactory experience. The students studying at UWL are encouraged to innovate and explore their creative side which gives them access to exciting career opportunities. Students are provided with an abundance of opportunities in terms of placement and get in-depth knowledge of their field.
Why study at the University of West London?
The University of West London has been ranked Number 1 for student satisfaction by the National Student Survey 2022, providing modern educational facilities to students. University and faculty work hard to cater to the needs of students and modify classrooms as per students' comfort.
UWL has many hidden treasures for students, from offering fully-equipped classrooms to 24 hours of safety and security; graduates need not worry about anything. It is a perfect choice for students and their parents who are planning to educate their children at this university. Wide-ranging courses taught in high-quality along with well-built academic infrastructure are the main reasons students opt to study at UWL.
Campuses of the University of West London:
The University of West London has two leading sites which are connected by a free shuttle service. These shuttle services come under the services provided by the university and is free of cost.
Ealing Site: Ealing Site is located at St. Mary's Road, University of West London. A 15-minute walk from Ealing Broadway Station is enough to reach an Ealing Site. This site is renowned as it consists of an auditorium, a gym, a Westmont Enterprise hub, music studios, restaurants, cafes, FM Broadcast, a sewing room, and much more facilities. This site is unique in its way and is a student's comfort spot. Almost all the needs of the students are fulfilled on this site.
Brentford Site: Brentford Site has a wonderful aura and facilitates most of the academic needs of the students. On this site, students can access to crime room and innovative simulation center. This site is well-connected with Ealing Site by a free 10-minute shuttle service, as it is located 1.5 miles south of Ealing Site. The school of human and social science along with the College of Nursing, The Claude Business School, Midwifery, and Healthcare is available on the Brentford site.
Eligibility criteria to study at UWL:
The University of West London has stated a guideline of eligibility criteria for students. A student planning to study at the University of West London should keep a check on the eligibility criteria given below:
Undergraduate Course: Qualified 12th standard from a recognized board with a minimum of 55% marks. Also, the candidate must have given English Proficiency tests.
Postgraduate Course: Completed bachelor's degree of 3 or 4 years from a recognized university or college. Students must also have a score on any English Proficiency test like International English Language Testing System (IELTS), Pearson Test of English (PTE), or Test of English as a Foreign Language (TOEFL) to get into university.
Integrated Foundation course: Qualified 12th standard from a recognized board with around 55% marks. Along with the completion of the 12th standard students must have been given an English Proficiency test.
Benefits of acquiring a degree from UWL:
Enrolling in any course at UWL ensures your success since students are going to get experience learning. The skills provided by the university are sought by employers and are relevant in the modern world.
Studying at UWL encapsulates the following benefits:
Campus in the heart of London: Located in the heart of London, UWL gives the student a chance to explore the hustle-bustle of London. A few minutes of walking or driving leads the way to libraries, restaurants, shopping malls, and greener parks. However, students studying at UWL have an upper hand as they can delve into the culture of London and get to know about the local tradition of the community.
Hands-on learning: Students will get an insight into the learning of the industry since experts constantly maintain high standards of teaching. The interactive classroom and good infrastructure allow students to experience learning. Even universities discourage the idea of rote memorization and believe in providing experiential learning which can be used in the real-time world.
Diverse student community: The University of West London has an inclusive and diverse community that opens doors for a student from under-represented groups including Asians, black, and minority ethnic backgrounds.
Globally acceptable degrees: Acquiring a degree from the University of West London opens up doors of career opportunities. Several big companies are happy to hire employees who possess a degree from UWL. Graduating from UWL ensures a high rate of employment chances.
Educational and personal support: Faculty at the University of West London encourage input from students and support them throughout their way. The department does not stop at any point from guiding students at various stages beginning from application to accommodation. The alumni of UWL have access to educational support from faculty after graduating from the university.
Student's Union: Unions at the student level are highly adored by students. These unions are a way to connect with other students. Joining these unions gives students a chance to put forward their viewpoints and take interest in the local staff of the university. Also, these unions help out students to be vocal about their opinions and establish their identities.
Facilities at the university campus:
Students are given an abundance of facilities at the University of West London's Campus to facilitate learning. The university does not like to compromise on providing quality education and space for extra-curricular activities.
Underlying are the facilities provided to students and faculty at the University campus:
An auditorium: Well-furnished auditoriums are provided for a better understanding of students. These auditoriums have good capacity and are equipped with audio and visual tools for better understanding of students. Auditoriums are accessible by students and faculty members all day long.
Music studios: the University of West London encourages students to take part in extra-curricular activities while following their passion. Throughout the day at the university, students are allowed to access music studios.
Peer mentoring: Peer mentoring is a way to connect graduates and students. Students with similar interests can share their insights and knowledge, thus becoming support for one another. This is a chance for students to enhance their knowledge.
Sports and recreation: The sports hub at the university campus is open to all the students, staff, and residents of the university. The sports facilities provided at the university campus are one of the largest in London. Even, the infrastructure complements the sports and fitness center at the campus.
Lecture theaters: UWL has lecture theaters with a capacity of around 150 students. These theaters are well-equipped with proper audio and visual tools enabling a better understanding of students. Lecture theaters are accessible to students and faculty throughout the day.
Restaurant and café: The cafeteria on the University campus is well-furnished and delivers delicious food. The restaurants are open from Monday to Sunday for students. A Starbucks counter is available for the guest for limited hours.
Libraries: Students can take benefits from a wide range of resources available in libraries. The libraries are well-equipped with computers, and print and digital media. Subject librarians are ready to help out students with essential things.
Accommodation: The University of West London accommodates thousands of students from around the world. University accommodations are flooded with benefits for students at affordable costing. Students can access free Wi-Fi, TV, dining area, vending machines, and many more.
The list of facilities provided by the University of West London is endless. Based on students' views, the university adds facilities for students and faculty.
Placement at the University of West London:
Studying at the University of West London opens up chapters of opportunities for students. The placement sector of the university actively hires employees from here. Below is given the chart describing salary of graduates and alumni:
| | |
| --- | --- |
| Courses | Average salaries |
| Finance, control, and strategy | $65,000 per annum |
| Human resources and recruiting | $61,000 per annum |
| Sales and business development | $58,000 per annum |
| Consulting, accounting, and professional services | $51,000 per annum |
| Support functions and translation | $46,000 per annum |
Students possessing degrees from UWL have assured jobs in different sectors including administration, consulting, sales, business development, hospitality, and many more.
Conclusion:
The University of West London has been ranked among the top 40 UK universities. UWL has a reputation for furnishing students with a high-quality education. The modern space catering to the needs of an individual makes it an ideal venue for students to study. Students completing their higher education at the University of West London have profited in terms of academic excellence and good career prospects. University runs with a focus on offering students a world-class education on every horizon.